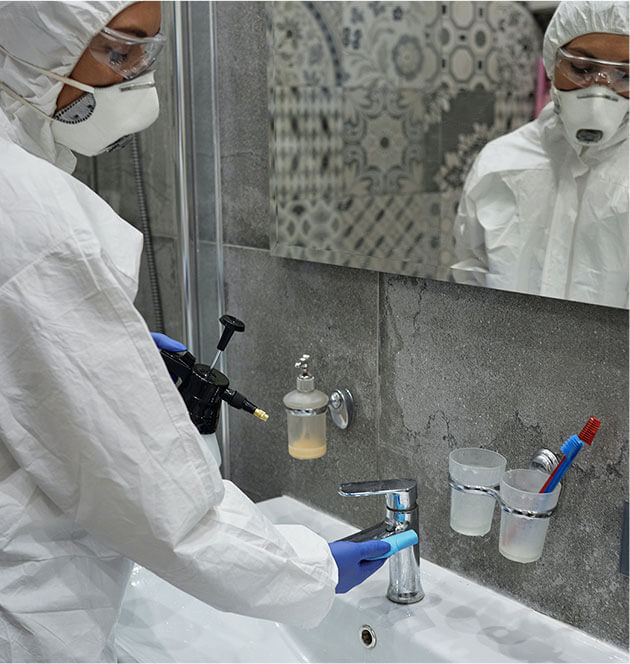 Technical Cleaners with Discretion & Integrity
In the aftermath of a violent crime, you shouldn't have to deal with crime scene cleanup. If you find yourself in these horrible situations, Valor Technical Cleaning is here for you. Our team of professionals can help restore your environment to safety and ensure decontamination while you begin recovering from this traumatic experience.
Our trusted crime scene cleaners take a professional & discreet approach to forensic cleaning. We handle a wide range of services including unattended death and suicide cleanup and can help take some of the emotional burdens off your shoulders.
The Police, EMTs, and Coroner Are Not Responsible for Cleanup or Disposal of Dangerous and Harmful Materials.
Many home or property owners that learn about Valor Technical Cleaning are surprised that neither the police, EMTs, nor coroner are responsible for crime scene cleanup.
If you are in this situation, emergency responders should refer you to a trusted crime scene cleaner in your area. For example, Valor Technical Cleaning partners with local law enforcement agencies and victims' advocacy groups to provide the community with a trusted, thorough crime scene cleanup service.
However, if the emergency responders don't provide a recommendation, you shouldn't be left with the responsibility of a crime scene up. These jobs are highly technical and pose potential health risks. Even worse, you would have to complete this task by yourself after a traumatic experience.
These situations are best left to professionals such as Valor with the right qualifications and professionalism necessary for the job. It's best to pass these trying jobs to a cleanup crew accustomed to these situations with your best interests at heart.
Valor understands the degree of stress and hardship that takes place following a crime. Our offices across the front range ensure rapid response. We also believe in discreet responses. Our unmarked company vehicles ensure we won't attract unwanted attention to the crime scene, allowing us to complete our jobs with no interruption in a timely, professional manner.
Contact us immediately for a free quote and a fast response. Our qualified customer service representatives will be able to tell you the next steps to getting your environment back to normal.
Tell a Valor representative the details of the crime scene so they can issue a free quote. They will thoroughly explain the nature of the cleanup to you and make sure you're comfortable with all of the charges. You can also schedule a prompt response during this step.
After scheduling the cleanup, our team of professionals dispatches to your house in an unmarked truck and a trailer unit. They haul biohazardous materials off the premises and restore your area to safety through decontamination. After confirming the environment's safety, payment gets addressed in the appropriate time frame (insurance covers most of Valor's services).
How Much Does Suicide Cleanup Cost?
In most cases, suicide cleanup is covered by homeowner's insurance. Insurance companies will cover the costs of our services and may even replace damaged items. If your homeowner's insurance doesn't cover suicide cleanup, we'll work with you to ensure you get the help you need.
Professional Crime Scene Cleanup Requirements
If you find yourself in a situation that requires technical cleaning, you should know what to look for in a company to make the process as painless as possible. Look for the following characteristics in your prospective crime scene cleanup company.
There are various dangerous aspects to crime scene cleanup that require a degree of expertise and technical training. Your technical cleaning company should have the necessary certifications and licensing to perform these sensitive, demanding tasks. They should also understand proper PPE (personal protective equipment) usage and the appropriate handling of biohazardous materials.
Crime scene cleanup companies need dedication. These professionals get exposed to tragic events and harsh conditions daily. To complete the job to a high standard, these professionals need to be tough in the face of adversity while staying sensitive to the client's emotions.
Industry-standard results require meticulous attention to detail. Your technical cleaning company should understand all the proper steps, procedures, and protocols involved in crime scene cleanup. Following these procedures ensures proper disinfecting and removal of biohazardous materials.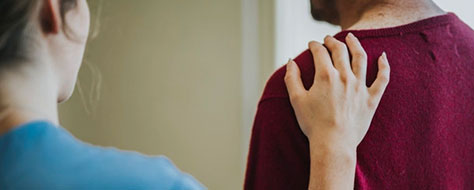 Crime scene cleanup technicians need to remain sensitive to the client's situation. They should be able to provide the proper level of support while not stepping outside of their scope of practice and retaining their professionalism throughout. Technicians should be able to provide support and reassurance when possible.
At the end of the day, you've got a problem (a mess) & we want to solve it for you – quickly, discreetly, and correctly. Contact us 24/7, give us the location and a few details, and our expert crime scene cleaners will be on their way to your site with the proper equipment, PPE, and cleaners.
Being safe & thorough is our priority, but we understand that speed is essential as well. Getting the crime scene clean, disinfected, and safe is important to opening back up for business – or starting the process of feeling safe & comfortable at home.
Crime scene cleanup is more than just disinfecting. It's about moving past whatever traumatic situation may have led up to the mess. It can be almost impossible to do that if you're staring the aftermath right in the face – or struggling with logistics & details of cleanup.
We approach every call, quote, and job with compassion & respect, treating you and your situation with dignity. Some of our clients want to know about the details & the process to feel safe, while others just want us in & out as quickly & discreetly as possible so they can get back to their normal routine. Whatever you need – Valor Technical Cleaning is here for you.
Crime Scene Cleanup Licensing & Regulations
There is no official industry-specific regulation for crime scene cleanup, but there are a variety of licenses & training required by different organizations to protect the public (and our team). Valor Technical Cleaning makes an effort to go above & beyond – exceeding industry training standards to provide the best experience to you.
Contact Valor for Crime Scene Cleanup
Valor Technical Cleaning provides prompt & professional crime scene cleanup. Contact us by phone at (303) 529-4894 whenever you need us (24/7), or use our online contact form if you have questions. We work on any size job for any size building – from individual homeowners to large commercial buildings and everything in between.
 In addition to crime scene cleanup – Valor provides other technical cleaning services in situations like hoarding, meth lab contamination, biohazard cleanup after death, as well as COVID decontamination and other infectious disease cleanup services.